So, after my unsuccessful endeavor on Friday, yesterday I had another thing going. I mentioned it a while ago - that's the thing that got me into this whole face painting. I was not really planning to paint at all, as it was strangely coordinated, and I was supposed to supervise the teenagers more than actually paint.
Well, I did not get to paint any kids, BUT I got to paint a few adults instead. I did a ghost half-mask (which came out spooky), an eye mask for another lady (I even got to sponge!), and a couple of other small designs. That was fun! People actually did not mind my fumbling hands and enjoyed my designs. I thought they were quite mediocre, but they loved them and told me that I should do it professionally.
I told them - I am actually studying to do it professionally. :)
So, despite me having not as much practice as I wanted, I am grateful for the few people that let me do it. One lady (wife of a co-worker) said that I should definitely come paint her little girls. I know her daughters, they are sweet little girls, and I would love to practice on them. So, I'm hoping the invitation stands. :)
Oh, and the awesome part is my company said that they will reimburse me for the paint that I have bought for this event (I have bought WAY more than I needed lol. Don't always believe the packaging.) I will post pictures as soon as I have some from the two parties.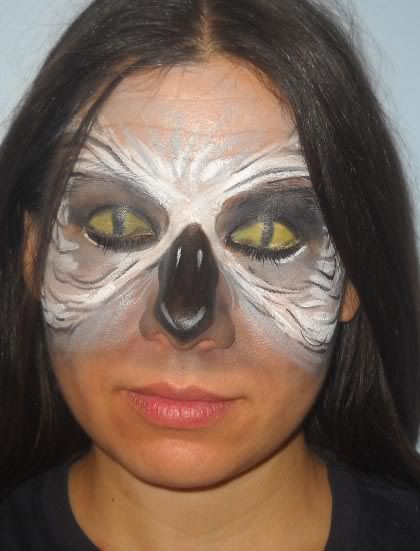 I am leaving you with this owl that I painted for a forum contest. I have not checked yet if I have won. I highly doubt it, but no harm in trying, right?